publications:lions_commentary
Lion's Commentary on Unix 6th Edition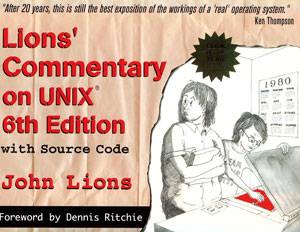 Authors: John Lions
Paperback: 254 pages
Publisher: Peer to Peer Communications (August 1996)
Language: English
ISBN-10: 1-57398-013-7
ISBN-13: 978-1-57398-013-5
Here's what the publisher says about this great book:
"After 20 years, this is still the best exposition of the workings of a 'real' operating system."
— Ken Thompson, co-developer of UNIX, 1996
"After years of suppression (as trade secrets) by various owners of the UNIX code, this tome has been re-released, and we owe a debt to all involved in making this happen. I consider this to be the single most important book of 1996."
— Unix Review, June 1997
"Lions's commentary was a unique document in the world of computer science, containing a kind of key to learning about a central component of the computer, one that very few people would have had access to in the 1970s. It shows how UNIX was ported not only to machines (which were scarce) but also to the minds of young researchers and student programmers (which were plentiful). Several generations of both academic computer scientists and students who went on to work for computer or software corporations were trained on photocopies of UNIX source code, with a whiff of toner and illicit circulation: a distributed operating system in the textual sense."
— Christopher M. Kelty, Two Bits: The Cultural Significance of Free Software, 2008
"Hackers, likewise, can learn to program by looking at good programs— not just at what they do, but at the source code…When I learned to program, we had to rely mostly on examples in books. The one big chunk of code available then was UNIX, but even this was not open source. Most of the people who read the source read it in illicit photocopies of John Lion's book…"
— Paul Graham, Hackers & Painters, 2004
There is an electronic version of the commentary on Greg Lehey's web site.
publications/lions_commentary.txt · Last modified: 2016/01/21 14:02 by wkt
---